How to Decorate a Wedding Table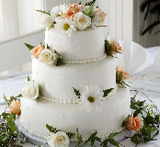 Tips for Reception Tables, Wedding Cake Tables, and Much More!
Are you wondering how to decorate a wedding table?

Perhaps you need to know how to make wedding table decorations and don't know where to start?

This article provides you with all of the tips you'll need.
So how do you decorate a wedding table?
It seems like such a simple question at first. But the more you think about it, the more complicated it gets.
For one, there's more than one type of table at your wedding. You need to know how to decorate a wedding cake table as well as a reception table.
After all, everyone's going to watch you cut the cake. The cake table needs to look the part just like the reception tables do.


That's where Care You can offer some guidance. In this article, we're going to help you with three things:

How to Decorate a Wedding Reception Table.




How to Decorate the Cake Table for a Wedding.




How to Make Wedding Table Decorations.
How to Decorate a Wedding Reception Table:
It's usually the reception tables that people think of when asking how to decorate a wedding table.
Here are three tips that will help you along.
Tip #1 – Use Appropriate Linens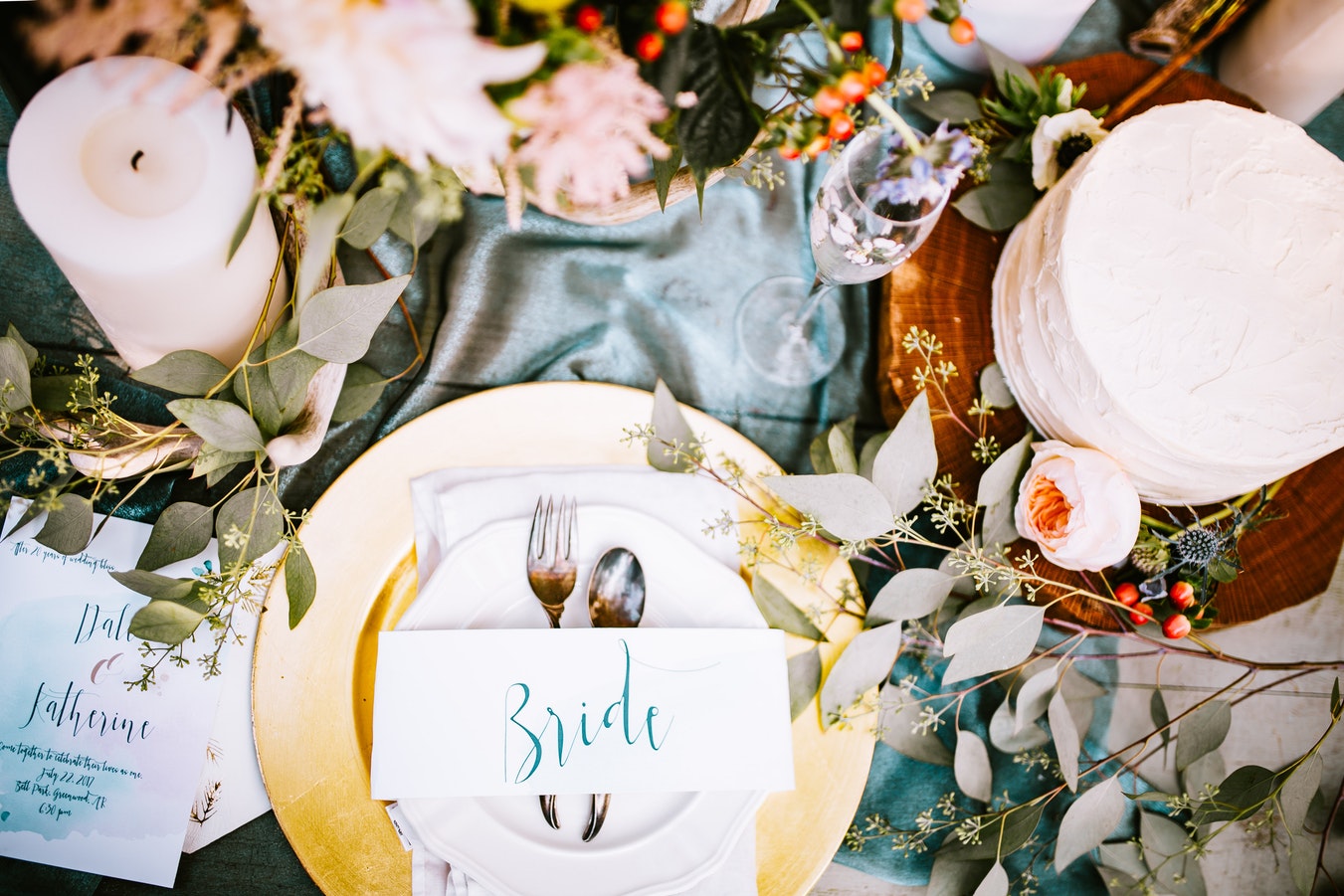 We all know that white is the most popular colour for a wedding. Most themes, designs and decorations tend to tie in with white décor.
But going for the all-white look for your reception tables can actually leave them looking a little boring. There are no splashes of colour to catch the eye so the tables start to blend together.
This is where your wedding linen choices become so important.
By all means, you should go for the white linen tablecloths and chair covers if that's the theme for your wedding.
However, you can add splashes of colour to those with table runners and chair sashes.
The idea is to add something that accentuates the pure whiteness of the tablecloths and chair covers. The contrast with bolder colours makes the whites stand out even more, which create an impressive effect.
Tip #2 – Pay Attention to the Centrepieces
Now that you've got the tables set up, it's time to consider the additional decorations.

Start with your wedding table centrepieces. The rest of the little decorations will play off the reception table's main feature, so it's important to get this first piece right.

Consider the wedding's theme before choosing a centrepiece. If you're going for rustic charm, a centrepiece made using hessian or burlap may suit the theme nicely. If you're looking to set a romantic mood, you could decorate the table with candles and have one large candle as a centrepiece.

Your imagination is the only limit here. You could even create your own centrepieces, which means knowing how to make wedding table decorations. This article offers a few helpful tips for that later on.
Tip #3 – Focus on the Little Decorations



With a centrepiece in place, you can now look at the little decorations that add some sparkle to the table.

Typically, these are the things that you scatter around the table to give the ceremony a more personalised touch. For example, you may have personalised confetti or glitter that adds to the overall effect. The little decorations also include things like your wedding favours and other accessories.

Ideally, these will come packed in satchels and containers that match the overall theme. For example, hessian table numbers work well as part of a rustic theme. Or, you could sprinkle glitter that matches the colour of your table runners to create an interesting effect.

The key is that these extra little decorations need a little thought put into them. Throwing together a mish-mash of accessories might ruin the cohesiveness you've worked so hard to achieve.

Experiment with the little things to ensure they mesh well with the wedding's overall theme.
Tip #4 – Play With the Shapes
The shape of your reception tables can also play into how you decorate them.
For example, you can use angles to great effect when decorating a round table. Square plates and angular linen lends a modern touch to what's usually considered a traditional wedding reception table.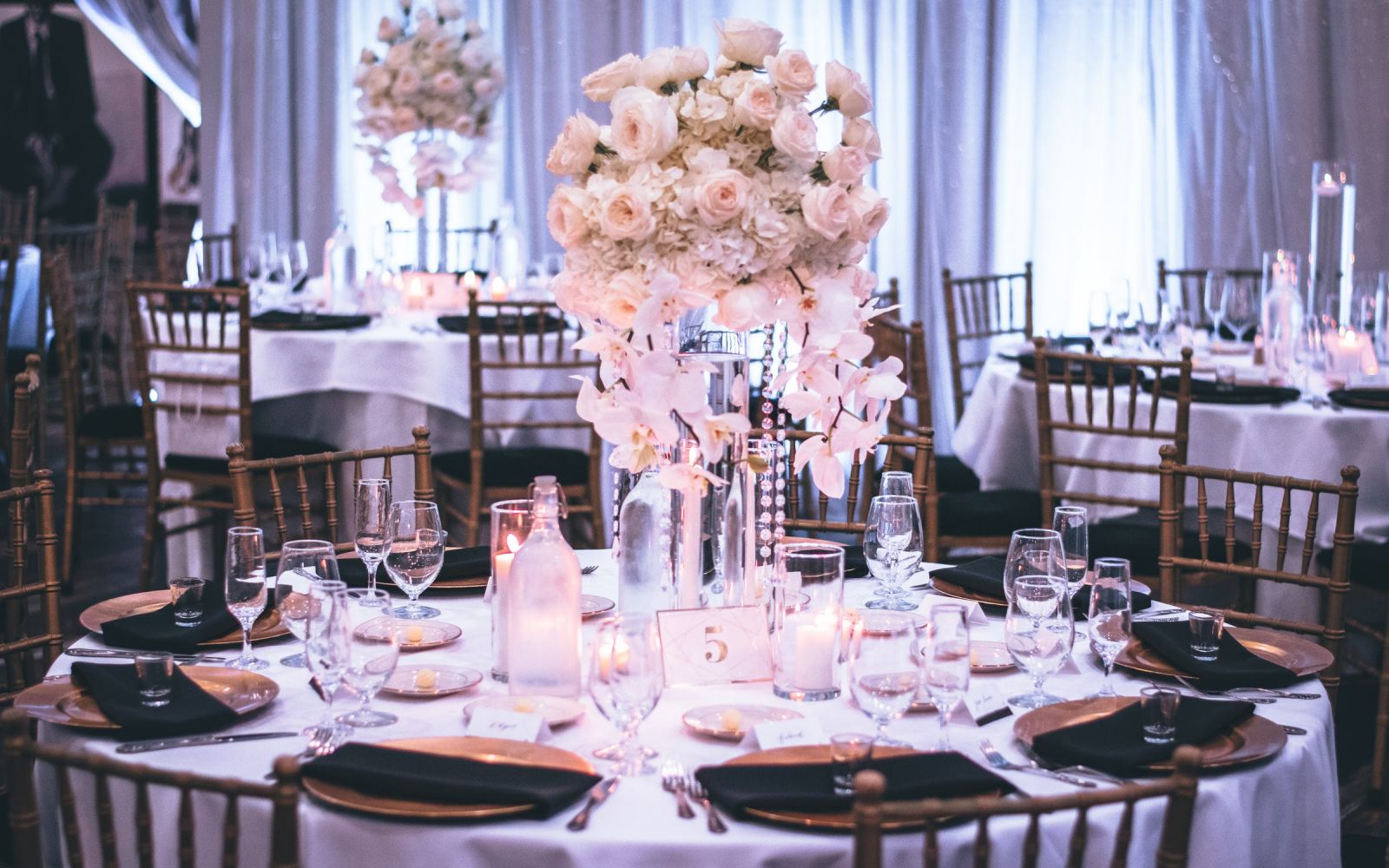 If you have rectangular tables, you have a little more space to play with. Spread the small decorative details around the table rather than bunching them close together. Again, you can go for circular plates and linen to contrast the edges and angles of a rectangular table. Candles and round coasters add some curves to an otherwise edge-heavy table.
Wedding Cake Tables:
The wedding cake table has a unique role in your wedding. For a couple of minutes, all eyes get cast on it as you cut the cake. But after that, little attention gets paid to it.
You don't want to go overboard. But at the same time, you don't want the table to look drab in comparison to the rest of the decorations.
Here are three tips that you can use when decorating your cake table.
Tip #1 – Use the Cake as the Centrepiece



No wedding cake table needs a centrepiece because the cake acts as the centrepiece.

Instead of worrying about finding an appropriate centrepiece, think about how you can add to the cake. Coloured ribbons and the cake's other decorations are what people will look at. Get those right to turn the cake into the centrepiece that it needs to be.

For ribbons, try to match them with the theme of the wedding. Silk and satin ribbons reflect the elegance that a white wedding conveys. However, a more rustic setting could see you using hessian instead.
You can get a little more creative with the decoration on top of the cake. Make this a reflection of who you are as a couple and have a little fun with it.
Tip #2 – Make Use of Cake Stands
You may decide to have several smaller cakes to go along with the traditional tiered cake. With so many guests to cater for, it helps to have several cake types on offer. Plus, you may want to keep the main cake for yourself.

The problem is that the main cake can overshadow the smaller cakes.

Use your cake stands to get around this issue. Place smaller cakes on higher stands so that they can get a little bit of the spotlight. The main cake should go on a lower stand as its height alone makes it stand out.

Again, you can use this technique to turn the cakes themselves into the main decoration.
Tip #3 – Use Lighting Effectively
Don't tuck the table away in a dark corner of the room. Even when you're not cutting the cake, the table still needs to look the part.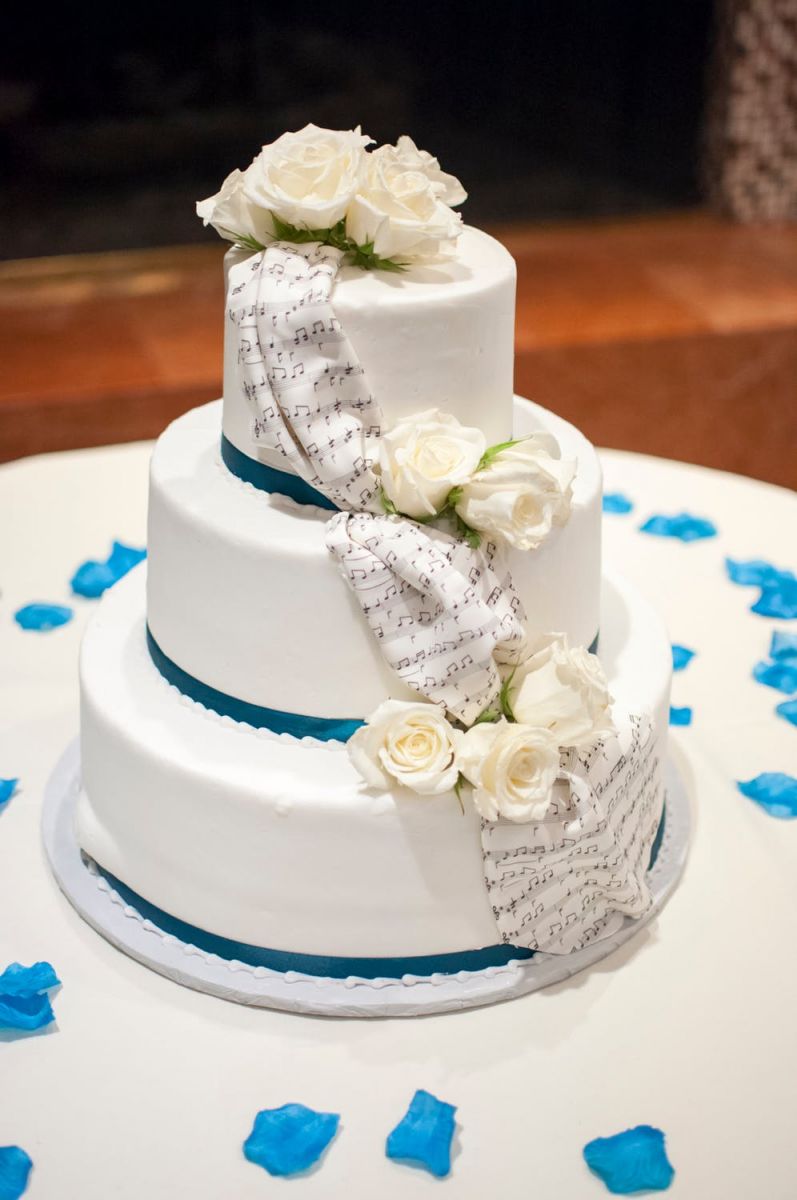 This is where your table lighting comes into play. You can use a spotlight to draw attention to the cake. Or, you can make use of strategically placed candles. Of course, candles will burn out over the course of the night, so they may need replacing as the evening draws on.
How to Make Wedding Table Decorations:
Perhaps you want to lend your tables a more personal touch. The creative among you may wonder how to decorate a wedding table without relying on the standard decorations.
Here are a few tips.
Tip #1 – Brainstorm Your Ideas
The main goal for creating your own wedding decorations is to add the personal touch. However, you don't want your little flourishes to contrast the main theme of your décor.
Brainstorming can help here.
Start by brainstorming all of the little ideas and personal quirks that you have rolling around your head. Get them all on paper so that you can quickly check them when needed.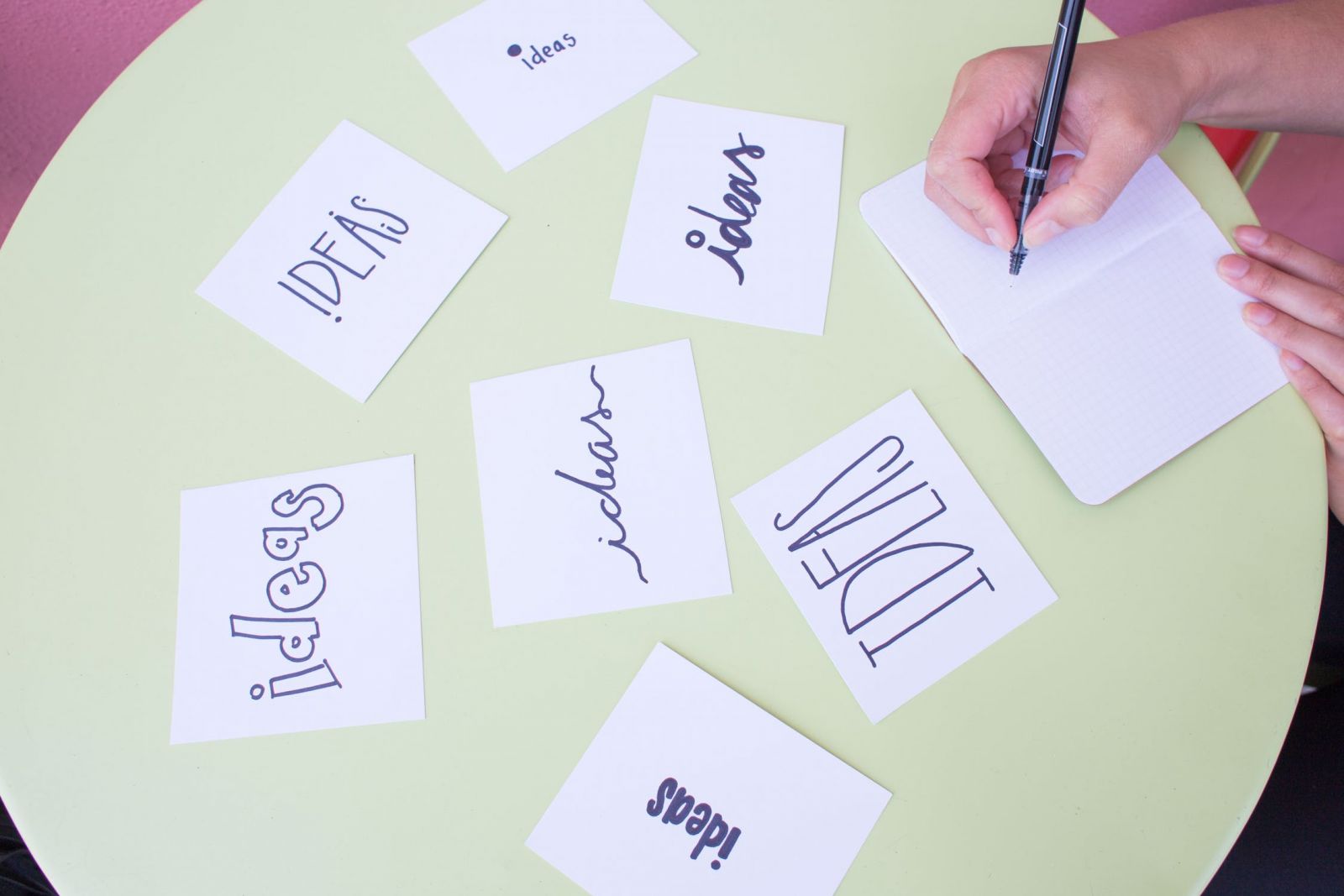 From there, start to think about how those ideas fit into your wedding theme. You may find that some of your personal touches don't quite fit. But that doesn't mean you can't use them. They may just need to be smaller decorations rather than major centrepieces.
Tip #2 – Create a Mock Table
An idea that seems great in your head may not look so good in practice. And you'd never know if you don't try it out beforehand.
With a mock table, you can experiment with your own creations.
The key here is to be flexible when you're making your decorations. Don't be afraid to try new ideas if something you've created doesn't work. Give yourself plenty of time and make sure you have plenty of supplies.
For that, you'll need to…
Find a Great Supplier for Wedding Decorations
Before you can put any of these tips on decorating a wedding table into practice, you need a great supplier.
Whether you want pre-made or DIY wedding decorations, Care You can provide what you're looking for.
You can find everything you need to decorate your reception and wedding cake tables in our online store. You'll also find bulk products, kitchenware and lifestyle goods, and a host of other items.
Head to the Care You store today to get started.
---
Leave a comment