Buy Wedding Table Decorations Wholesale in Australia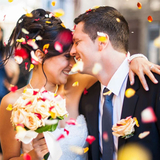 For many couples, holding a well-planned reception is almost as important as the wedding itself. It's their chance to thank their friends and family for all their support and kind wishes. Part of holding a memorable reception is having just the right decorations on each wedding table. Yet, this is also an area where you can buy beautiful wedding table decorations in Australia and save money at the same time. How is this possible, you may ask? You just need to shop online at Careyou, where you can buy wedding table decorations as much as 10-15% cheaper.
We have everything you want for your wedding table decorations, including disposable cameras (a must-have these days), candles and tea lights, beautiful candle holders, wedding vases, tree centrepieces, jars for wedding favours candy, tablecloths, to name just a few things. All our wedding table decorations are quality items, and you'll love their cost. Whether you're planning a big reception or one for a few friends and family, we have what you need to make your wedding table sparkle, and at exceptional prices. We're an Australian based company, and you can count on our excellent customer service.
Find Quality Wholesale Wedding Table Decorations
Weddings can be expensive affairs. It's not unusual for a couple or their parents to spend several thousand dollars on all the various elements that go into creating a wedding. That's why it's important to keep your eye on the costs and save in the areas where you can.
A Wedding You Will Remember
We pride ourselves on our customer service and prices. Our talented staff can help you find all the wedding items you need for your celebration. You can also just go online and browse through our many wedding related items. When we ship your order, if any of it arrives broken, we will replace it free of charge. We know how important your wedding is and we will do our best to help you make it the distinctive day it should always be. Whatever you need for your wedding, contact us today.
Think about getting married on a non-traditional day during a non-traditional season – say a Sunday in winter. You'll not only save money on booking rentals, but your friends will appreciate having something enjoyable to do in winter. Also, consider looking for a bridal dress or maids of honour outfits at unusual places such as a vintage shop.
Budget wisely. Young couples too often underestimate the cost of the wedding and the worst thing you want to do is start your marriage off in debt. Take your time. Plan your wedding over months not weeks, and it will pay off in the end. You can still have a fabulous wedding and not go into debt if you plan wisely. That includes shopping for your wedding table decorations wholesale at stores like ours.
---
Leave a comment