HOW TO CHOOSE THE RIGHT VASE FOR YOUR WEDDING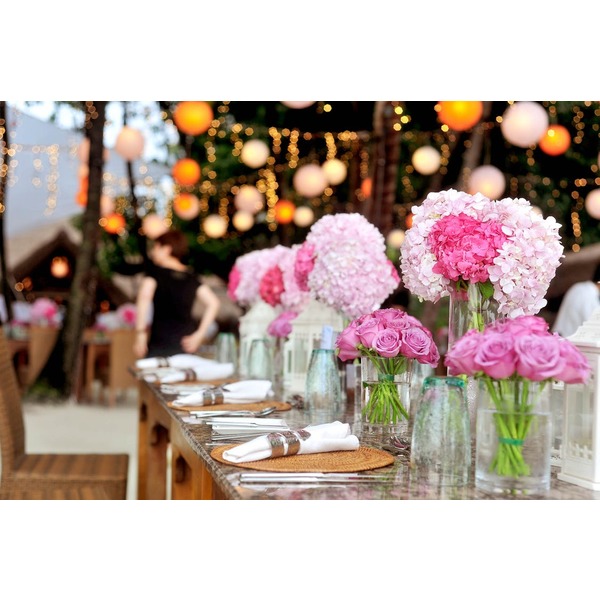 When it comes to your wedding décor theme, there are hundreds of details that need your attention! Your flower displays are certainly one of the most important. The type, season, colours, the mesmerising fragrance and most importantly - the vases that you choose to display them in.
With the huge range of vases available, this can be an overwhelming decision. Here are a few pointers to guide you.
Flower vases for the wedding guest's tables
When you are seating 8 to 12 guests around a table, you need a fairly wide and low centrepiece. You want to fill up the empty space in the middle of the table but you do not want the flowers falling into the delicious three course meal you are serving.
You also don't want a high and tall display that guests have to peer over or around to see one another. It will simply end up on the floor! Choose a classic square vase, cylindrical vase or a fluted bowl. The opening on the top should be around 12cm in diameter and the height not more than 15cm. This will allow for a full and bold display that will not interfere with the guest's space.
Glass vases can be easily decorated by filling them with colourful glass stones that match the theme of your event. You can also add a bling effect with this innovative glitter decoration that comes in a choice of 10 vibrant colours.
(LINK http://www.careyou.com.au/p/6-x-400g-red-sand-wedding-vase-candle-floral-aggre/5273red)
Choose beautiful flowers that are grown locally and are in season. They will add a natural earthy beauty to your wedding venue.
Tall elegant vases for the main wedding table
If your venue layout has a main table for the bride, groom and family members that is long and straight, you can create a fabulous effect by placing imposing, tall flower displays on either end. Choose Eiffel Tower style vases that are at least 50cm high. Fill with a few carefully chosen long stemmed flowers, creating an eye-catching pillar effect on either end of the table.
(LINK http://www.careyou.com.au/p/bulk-lot-12-x-clear-glass-effel-tower-vases-cylind/1800)
Add some firelight to your wedding flower display
If you want something different, you need not only use flowers as a centrepiece. Live fire from floating tea light candles make the most romantic displays and are easy to create. Choose a low glass bowl with a wide opening on top. Fill with water, add coloured stones and float delicate flower blossoms on top. Then, place a few tea lights amongst the flowers for a fabulous ambiance.
(LINK http://www.careyou.com.au/p/1822/1822)
To create a sensational effect, wind strings of Fairy Lights around your vases and dim the main lights of the venue. These strings are also perfect for an evening outdoor event. Wind them around very tall vases placed strategically around the garden setting.
(Link http://www.careyou.com.au/p/12-x-2m-long-cool-white-wire-string-battery-operat/5248)
Small vases make great wedding favors to take home
Give your guests a lasting memento to take home as a reminder of the special day they shared with you. A lovely glass vase will be the perfect choice. When friends and family use them at home they will always have fond memories of your wedding celebration!